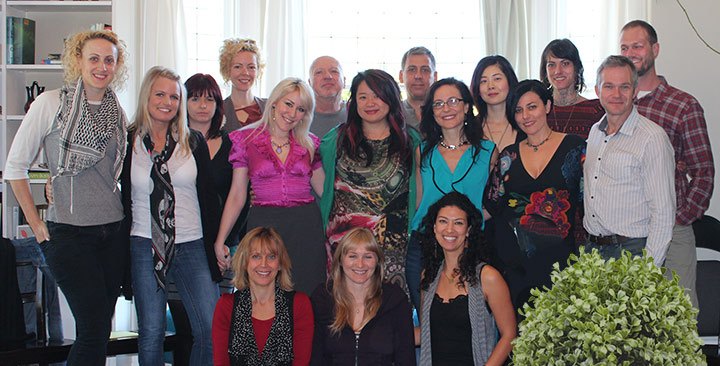 We just finished teaching the 2013 Somatica Professional Training of Sex and Relationship Coaching. Our students reported that it was a powerful, life changing experience. We had such a wonderful time teaching and watching our students grow and transform in front of our eyes. We are very excited to spread the Somatica Method all over the US and around the world, and are looking forward to seeing the new Somatica practitioners bring their unique talents to helping people create mind-blowing sex and fulfilling relationships.
Here is some of the feedback that we got:
"This has been one of the best educational experiences of my life."
"This class was life-changing. It touched on all the areas in my life that needed work and I feel like I had the tools and guidance I needed to make the necessary improvements so I can offer these tools to others. Celeste & Danielle are the real deal. They know their stuff and offer it in a way that anyone can learn the tools and strategies for not just a healthy sex life, but for a healthier LIFE."
"Just amazing! I never felt a teacher being so open, vulnerable, funny, easy and absolutely brilliant."
"The Somatica Training was invaluable in providing me with a framework to work with clients on sex, intimacy and relationships. Tantra and Sexological Bodywork provided me with embodiment skills and understanding the importance of breath, sound and movement. Somatica provides the missing element, which is central to human sexuality, of emotional connection in an embodied state. Somatica is the glue that holds all of my training and education in sexuality together!"
"I honestly can't imagine any other training that could move and inspire so much compassion and self-love. There's nothing in my life that compares to Somatica."
"Coming from the MFT (Marriage and Family Therapy) world I felt lots of arenas around sexuality did not ever get discussed. After taking this class I have learned not only about how to help my clients, I also learned so much about myself in relationships. It is incredible that we can go through life so disconnected and not even know. For anyone looking to better understand themselves in relationship or by themselves, I highly recommend this course. It will challenge you in the most profound way."
"Really amazing and life-changing. So different from anything I've done. Celeste & Danielle have a way of articulating things that's at once profound and straightforward. Everything is so applicable to what's going on with me in my life."
Are you a professional in the therapy, coaching, sexuality or sexological bodywork field, or someone who wants to share their sex-positive attitude through a career helping clients have the healthiest, happiest sex lives possible? Expand your professional skill set, grow your erotic repertoire, and spread the love with The Somatica Method. Apply for a seat in our 2014 Somatica Method Professional Training today!