Learn How to Love Your Body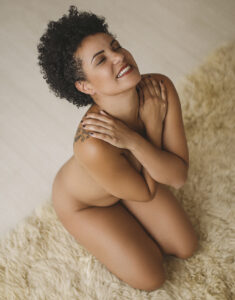 Our most intimate relationship is with our body. We move, talk, breathe, bathe, dress up, hug, make love – and we have our bodies to thank for all of these beautiful experiences and connections.
Sadly, our society has declared a war on our bodies, and we get messages all around us that – unless we have some ideal body – we do not deserve to live fully. What's more, this image changes constantly. It is a moving target that remains unattainable to everyone. This is why it is so important to learn how to love your body.
The pain of walking though every day, experiencing shame and lack of self-acceptance, can be excruciating.
It impacts every part of your life, makes you feel small, unattractive and can greatly impact your desire and interest in sex. We want to take you on a journey where you will learn how to love and accept your body.
How to Feel Sexy
Take a moment and let yourself connect with how you want to feel in your body. Feel the desire to be loved, appreciated, accepted, desired, supported, sexually satisfied, received, safe, valued, seen, and celebrated.
We can help you develop this relationship with yourself and with your body. You will learn the pathway to connect gently, with self love and in appreciation of yourself. We want you to feel sexy and to find the people who are able to reflect your sexiness back to you.
Here's How We Help You Love Your Body
We take you through 4 experiential steps to teach you how to love and accept your body, and feel sexy:
1. Embodiment
What makes the difference is not how your body looks – but how you relate to it. We will take you through the steps of how to accept your body starting with being in your body – what we call embodiment. Through breath, self-attunement, and body awareness, you will turn up the volume of your body voice and listen to what it wants and needs.
2. Self Love
Self love is one of the most powerful tools to experiencing joy and to living life to the fullest. The relentless negative messaging you hear about your body disrupts this flow and joy. We teach you to refer back to yourself and lower the volume on these external messages. This will help you re-focus on loving yourself and begin taking actions. Eventually, you will make choices based on self love and gentleness, as opposed to self hatred and rejection of the self.
3. Sensuality
Your body is not a clothes hanger. But as you look at it oh so frequently with external critical eyes, you miss out on all the pleasure you can have with it. Developing a sensual relationship with your body can help you reconnect with its aliveness and help you grow bigger appreciation. You develop a new experience with your body that will nourish you and teach you how to love your body.
4. Different Mirrors
Your negative body image developed through the critical eyes of others – in glamour magazines, anorexic model images, and actresses covered in make-up. So one of the most powerful ways to heal this negativity is to others to speak up. Invite those who love and appreciate your body to talk about it – and allow those words in.
You can do this in individual coaching with us. Another profound option is to join the Somatica InLove™ workshop for personal growth – and experience connecting with others while you learn how to love your body. During these sessions, you will have many more mirrors reflecting your gorgeousness and sexiness back to you.
In Somatica Sex & Relationship Coaching Sessions You Will:
Learn to tune into your body and listen to what it needs and wants
Connect with yourself and learn to accept and love your body unconditionally
Move beyond body shame and embrace your sexy self
Develop a sensual relationship with your body
Prepare for Your Coaching Session: