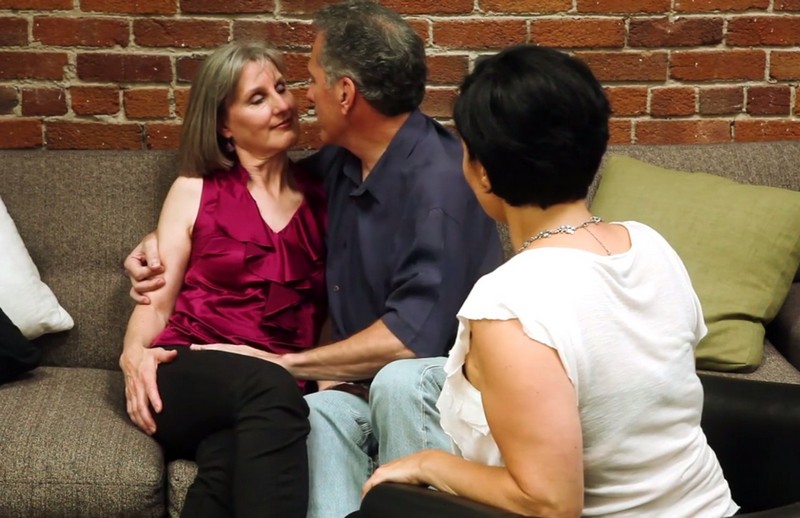 Another installment in our guest blogging series, we are delighted to share Pam's blog. Pam is a Somatica Practitioner and the author of the deeply profound and personal blog Down to There.
What I Learned about my Relationship with a Third Set of Eyes
Here's the thing. My husband notices certain traits about himself and how he is in our relationship, and I see another set of qualities in myself and how I am in our relationship. But when we started seeing a sex and relationship coach, a whole new set of observations suddenly entered into the equation… and that changed everything.
A few years ago, after nearly two decades of mismatched libidos, my husband and I sought help to save our relationship from what felt like a frustrating stalemate.
Right away, Danielle began to point out things that we were not seeing. For example, when I reached out to touch him, she noticed I was trying to figure out what he liked. Without her birds-eye view of the interaction, we would have stayed the course with him enjoying being touched, and me thinking I was happy because I was giving him what he needed. But she asked me to try something different. She asked me to touch him in a way that was pleasurable for me without any conscious concern of whether it was pleasurable for him. I was surprised how completely different and more intimate the experience became for both of us.
It's funny how hard it is to see things objectively when we are so in it. You'd think that by being so close to a situation that you'd be the expert, the one who really understands the best what is going on. However, it doesn't always work that way. Sometimes we need a third set of eyes on the problem.
This played out again more recently when my husband was expressing that he'd like to take more control in our sexual interactions. Following my lead had been successful to supercharge my libido for some time, but he felt like he had lost control in his sex like and desired to take charge, at least some of the time.
As luck would have it, I was also interested in my husband taking more control. But whenever he tried to lead, it never ended well. Our actions and reactions kept triggering each other and the encounter always ended up falling apart with one of us being angry and the other being hurt.
So Danielle suggested trying something in her office. She had him stalk me and then pin me up against the wall to see where we were getting stuck. As usual, what initially felt to me like "Oh yeah, this is what I'm talking about!" quickly and strangely shifted into a weird space where he stopped bringing it and it stopped feeling good to me.
We both turned our heads towards Danielle and said "See?" And in the beautiful way that she does, she said "This is a problem of immersion." What she noticed that we hadn't was that both of us were in our heads, not our bodies. We were carefully watching each other for signs that it wasn't going well, and in the process, became completely disconnected from the pleasure we could have been feeling. It's a problem that has a lot of solutions and one that we are now having much more fun trying to solve.
My experience as a client is that adding in a third set of eyes when you feel stuck, misunderstood, or confused in your relationship can provide the "aha moment" that you both need to see things from a new perspective. I've become so enthralled with these "aha moments" that I took the Somatica® Training last year. Since then, I've started my own practice helping individuals and couples explore what is possible emotionally and erotically in their relationship and am taking the training again this year to continue the journey.