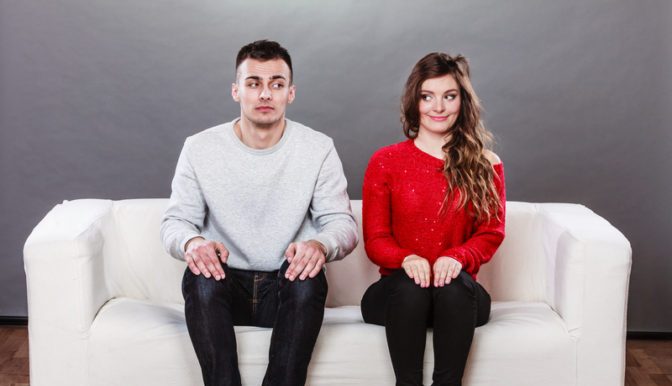 Flirting is a very vulnerable endeavor – to flirt is to open up your desirous, erotic parts to connect with another's. Opening up and allowing your erotic energy to flow is a big part of what makes it so energizing and exciting. At the same time, no one wants to experience the feelings of rejection that can result from a rebuffed flirt attempt. Whether you are flirting with a new acquaintance or a long-time partner, give yourself tons of gentleness and loving support knowing you are willing to take a risk in order to live your life to the fullest.
Because we want your flirting attempts to be as successful as possible, we want to share what we've learned about flirting as sex and relationship coaches and flirts in the world. In our next article, we will reveal our top three secrets to successful flirting. But first, here are a few of the worst flirting mistakes to avoid on your way to becoming a masterful flirt.
#1 Avoiding Flirting Altogether or Relying Too Heavily on Tech Flirting
Because flirting is so vulnerable, and for fear of being slut-shamed or creep-shamed (more about this later), some people avoid flirting altogether. Others avoid the fear of face-to-face flirting by relying on technology as their only flirting medium. They may be great at flirting over Tinder or text, but once you meet them face-to-face, they nervously ask you question after question, without ever pausing long enough in the conversation to catch your eye or take you in. Flirting is scary and not everyone will be available to connect with what you are putting out, but no one can connect if there is no energy at all.
Once, when Celeste asked a date why he didn't bring any flirtatious energy on a first date, he said, "I think of this as date zero, I don't want the women I date to be scared away by my sexual energy." Date zero was an apt name, as there was zero chemistry building and nowhere to go from there. This is not a judgement; many heterosexual men are especially afraid to bring their erotic energy on a first date. Yet, in order to want to go on, women definitely need to feel desired without feeling overwhelmed. This means that flirting is required.
In long-term relationships, people often become very complacent, and treat their sweetheart more like a business partner or co-parent than a lover. Even if you flirted when you first got together, you might feel like it's silly or stupid to flirt now that you know each other so well so you or your partner may avoid it. This is a huge mistake and probably one of the reasons so many couples have sexless marriages or separate. In order to keep that spark alive and to make all the challenges of long-term relating worth it, you need to play with the desire and anticipation that come from having an ongoing flirting relationship with your sweetie.
#2 Trying to be Someone You're Not
Some people feel like, in order to flirt, they need to first develop a different personality. If you bypass your authentic style and push yourself to flirt in a non-youish way, then you are likely to miss potential connections completely. In order to create a flirt circuit (which we will teach you how to do in our next article), you must be present in the interaction. Many shy people or people who get nervous think that they have to completely overcome their shyness or nervousness to be an amazing flirt – we strongly disagree. Whether you are a woman or a man, shy flirting can be very sexy! There is something infinitely brave about letting yourself connect while still allowing your shyness and nervousness to be there. A shaky lip, averted glance, or nervous laugh shows your vulnerability to your flirtmate and allows them into your tender parts – it is both endearing and arousing.
#3 Falling into the "Creepy" or "Desperate" Category
While you might think that avoiding flirting altogether is the worst flirting mistake you can make, there is one mistake that is even more dreadful – falling into the creepy or desperate category. The way to avoid being labeled creepy or desperate is to learn how to masterfully share your erotic energy without spilling it all over your flirtmate. If you give too many compliments, laugh way too loud at every joke or seep the other person in double entendres, they will likely label you as desperate or a creep. We have so much compassion for men; some women will put you in the creepy category even if you are an amazing flirt, just because they have decided they are not, and never will be, attracted to you. For women, feeling desperate often comes from not knowing how wonderful you are and learning how to be a subtle flirt can really help. In any case, make sure to treat yourself gently when you feel rejected – and remember how amazing you are for bravely trying!
Now that you know what mistakes to avoid in flirting, stay tuned for our next article on what flirting really is (and isn't) plus our top 3 secrets of being a successful flirt.
Now that you know what not to do, want to learn the secrets of how to flirt well?! Join us for our Flirting Your Way To Success workshop in Berkeley on October 1st. Find out more and sign up HERE!