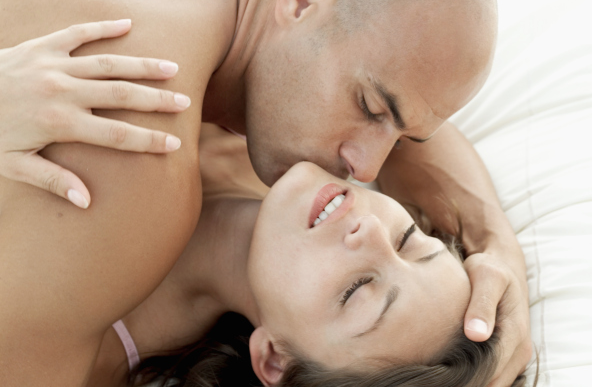 Wanna learn how you can give and receive the best clitoral orgasms? In the 6th episode of their 9-video series on women's empowerment, sex coaches Celeste and Danielle tell us why psychological arousal is so important. Watch them discuss what you should – and shouldn't – do during physical foreplay; and how you can give your partner the most intense orgasm via the clit.
(Below is the slightly edited video transcript)
How to Get Warmed up Right
Celeste: Today we're gonna talk about clitoral orgasms and all of the pleasure a clitoris can have.
For me, the clitoris has so much to do with psychological arousal. If you want to talk to my clit, firstly you have to sneak up on her. Not just go jabbing at her right away. And I think it's really different (for women). I understand that for men, a lot of times, they're ready for their cock to be touched right away.
If you're being a lover to man, you probably can't touch it too soon, or too often, or lick it, or suck it. So they're ready. But I think because of that, they think that we're the same. And we so aren't.
Danielle: At all.
Celeste: At all! When you first get warmed up psychologically and physiologically with your clit, she starts to peek out. Like – ooh something good might be happening soon. Or – no, no, that's too soon! I'm going back into my hole and all the arousal drops.
Danielle: She's very sneaky. The clit is very sneaky. And so she goes in and out.
Celeste: So she needs to be snuck up on. And I think that's something to teach your lovers as part of your erotic empowerment. And what does it mean to sneak up on it, right?
Danielle: What I really like is when I'm snuck on from behind. And then if my lover is touching the whole body. And then just barely touching my pussy. Just a very general caress. It's not targeted right away at my clit, at all. Very general, a full hand caress, very light. And then it goes anywhere else.
Foreplay is a Worthy Investment
Celeste: So you start to get this teasing feeling. Like – oh, I'm going to sneak up on you, but I'm not gonna just focus in yet. And the other ways that you sneak up is by saying sexy things, whispering sexy things in my ear. Or caressing my whole body, biting my neck, nibbling on an ear lobe. My clit starts to come alive when those things are happening And I think that's what people don't realize.
Danielle: I tell people foreplay is worth the investment. And foreplay doesn't start with nipples or pussy – foreplay is way way before.
Celeste: Physically going very very slow and creating anticipation. I think the problem is people go right to the clit itself. For me, you need to have a more broad brush approach. Like you're using three fingers instead of one finger and you're not doing it pointy. You're doing it flat, right?
Gently rubbing, circles or caressing, or same with your tongue, like your like an ice cream cone.
Danielle: Some clits are more sneaky and they do tend to kinda hide, even when they are aroused. So taking a much more broad approach, like using your whole hand, and going up and down and really trying to hook on it. This will be much more inviting for the clit to come out instead of just… run away and hide.
Celeste: I also like my clit kissed. 'Cause it's a little like … ooh, ooh, ooh. And I do think women's performance anxiety comes in when you start touching the clit too fast, and its like you're trying to make an orgasm happen. As opposed to just like – I'm exploring this and I could stay here forever and it smells so good. This is the attitude, right? And it smells so good, and it tastes so good and it's so perfect that however long it takes, I don't care. I'll be down here enjoying myself.
I feel like that's what we wanna express to our partners. Men – if your listening that's what we want you to do for us women. And it's only when you can feel your body clenching and moving, that we want for the stimulation to be more direct and constant and not get all creative. It's at that moment that we're ready for somebody to stick with their guns and really go for the orgasm. But until then it really needs to be snuck up on.
The Power of Breath
Danielle: I want to talk about the power of breath and sound when you're receiving clitoral pleasure. Always have some sort of stimulation on the clit. Don't just wait for it to have a magical orgasm without touching the clit. The clit is the source of our pleasure and even if you we have other orgasms, the clit makes everything feel better.
Celeste: So don't think of this "orgasm during intercourse without any other stimulation" as the holy grail – it is not. In fact it's probably gonna be a less intense orgasm than if you are using you're hand on your clit. Or if you're using your vibrator at the same time that you're getting penetrated.
Danielle: So back to sound and breath. We tend to – when we get or try to squeeze the clitoral orgasm, to get into a little bit of a "work-gasm" mode. We really stop the breath. And it's good to kinda squeeze the breath and hold it a little bit. But it's really also very powerful when you release the breath and spread the sensations much more into your body. And then when you get much closer to orgasm, it's a good time to hold the breath and keep it squeezed. But if you notice that you're squeezing, squeezing, squeezing, trying to get to orgasm – it means you're working too hard, and sex is about fun and not about working hard.
Celeste: But you definitely do usually need to squeeze your muscles. Clitoral orgasm for me is all in my legs and thighs. And I have to smooth them, and squeeze them, and they need to be free to move and squeeze as they please.
And if you like what we said here, don't miss another episode by subscribing to our YouTube Channel!