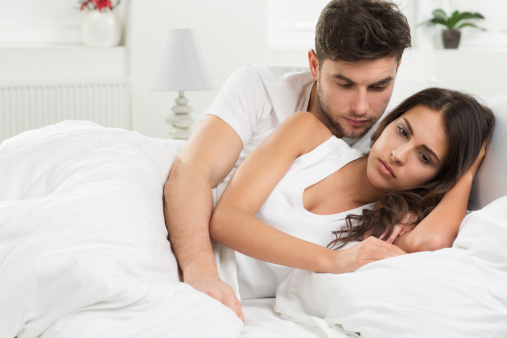 Here is a question we received from a reader:
Hi, I was going through your blog. I have a peculiar issue, maybe. I am 31, a mother of 2, and my husband is 34. He is very interested in sex — anywhere, anytime, — but me, I don't know why, but I totally dislike it. He loves me a lot. And I feel bad that I discourage him, which hurts him a lot, but anytime he comes to me, even for a small kiss, I feel he is proposing sex. I have posted my problem in many blogs, but no luck till now. It's been almost 3 years since I have let him near me. I feel sad for him. Please help.
—
The longer a couple goes without having sex, the more difficult and awkward it can be to start again. Your body actually forgets what it liked about sex. The good news is that a sex drought can make getting it on again even more exciting! We've helped many couples out of their sexless ruts, and find that the reasons they stopped having sex usually fall into three main categories.
Low sex drive – Some women naturally have a lower sex drive than they've been led to believe is "normal." If your libido has always been lacking, it can be increased by simply spending more time thinking about sex! Tune in to the sensuality of the world around you, explore your turn-ons with erotic movies and books, and don't forget to masturbate!
Emotional disconnect – For women in particular, misunderstandings and unresolved conflict in the relationship can cause a lack of connection and and make intimacy difficult. You and your partner must learn to effectively communicate your feelings and bridge the divide between you, because relationships are about repair.
Pushing the wrong buttons – Women frequently confide to us that their partner doesn't know how they'd prefer to be approached, seduced, and pleasured, but they've never said anything to him! It's crucial that you talk about your turn ons, even if you think they're a little weird. Once your partner knows what you like, we can help him perfect his technique.
Even if it seems like your partner is always in the mood, he's probably suffering from feelings of rejection and insecurity. He may fear that he won't be able to perform well once you do start having sex. You need to make sure you keep communicating, reassuring one another, and working together to rebuild your sex life.
All this advice may be overwhelming. If you're not sure where to begin again, a kiss is always a good start.