The Top 4 Books we recommend to anyone wanting to more deeply understand themselves as a sexual person and sex in couplehood are our own Making Love Real and Cockfidence as well as The Erotic Mind by Jack Morin and Mating in Captivity by Ester Perel (see reviews below). If you read nothing else, read these!
Making Love Real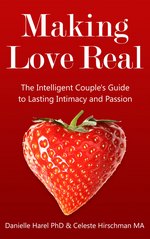 By Celeste Hirschman and Danielle Harel
Price: $19.95
Making Love Real will help you take both your sex life and relationship to the next level. This guide offers a comprehensive view of emotional and sexual relationship dynamics as well as practical tools for lasting transformation. Making Love Real goes beyond hot tips and tricks to help you address your foundational human needs so that you can create a deeply trusting, passionate and sustainable relationship. Read more.

Cockfidence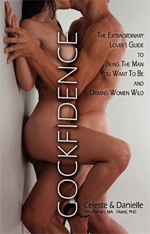 By Celeste Hirschman and Danielle Harel
Price: $19.95
Whether you are single, dating or in a relationship this book will show you how to attract sexual desire from women and bring them to the heights of their erotic and orgasmic potential. You will find your personal power, clarify who you are and what you want in your life, and have mind-blowing sex and passionate connections with women. Read more.

Books about Female Sexuality
Female Ejaculation and the G-Spot: Not Your Mother's Orgasm Book! (Positively Sexual)
By Deborah Sundahl
Of all of the books out there on Female Ejaculation and the G-Spot we feel that this is the most comprehensive and detailed. It not only covers practical topics such as anatomy and technique, it also covers emotional aspects and the benefits that can be gained by getting in touch with your G-Spot.

Mama Gena's School of Womanly Arts: Using the Power of Pleasure to Have Your Way with the World (How to Use the Power of Pleasure)
By Regena Thomashauer
As pleasure activists, this is one of our favorite books. Mama Gena reminds all women to get back to their deepest desires, to have fun and play with life again, both for their own satisfaction and because nothing is hotter than a woman who loves pleasure.

Sex for One: The Joy of Selfloving
By Betty Dodson
Betty Dodson, the godmother of masturbation, was one of the first writers to ever take on this truly taboo topic with such joyful and enthusiastic verve. In Sex for One, she talks about her women's masturbation circles and all of the power and well-being that can come from it. She teaches techniques on how to become orgasmic through clitoral stimulation and we have incorporated many of her teachings into our coaching practice.

Our Bodies, Ourselves: A New Edition for a New Era
By Boston Women's Health Book Collective
This feminist treatise on women''s bodies and sexuality is a must for any woman who wants to truly know and love her body. This encyclopedia-like book covers everything from puberty to childbirth, from sexual trauma to sexual healing. We love it!

The Return of Desire: A Guide to Rediscovering Your Sexual Passion
By Gina Ogden

Women's Anatomy of Arousal
By Sheri Winston
For a scientifically sound look at women's sexual arousal and response, look no further. In Women's Anatomy of Arousal, Sheri Winston untangles the complexity of women's sexual composition and offers in-depth info and techniques for women to have heightened pleasure and fantastic orgasms.

Come as You Are: The Surprising New Science that Will Transform Your Sexy Life
Emily Nagoski, Ph.D
Nagoski offers an in depth look at the social messages as well as the science around women's sexuality. Nagoski gives women permission and a wealth of information foundational to the exploration of their own sexual desires and physiological responses.
Books about Male Sexuality
The New Male Sexuality: The Truth About Men, Sex and Pleasure
By Bernie Zilbergeld
Zilbergeld's book offers a fresh look at men's sexuality, helping men understand their sexuality and relationships. He includes exercises that you can do alone and others that require a partner.
Books about the Psychology of Sex and Relationship
The Erotic Mind: Unlocking the Inner Sources of Passion and Fulfillment
By Jack Morin
Jack Morin presents a pleasure-focused, non-judgmental approach to understanding our deepest turn-ons and fantasies. Morin helps us all to uncover and understand our "core erotic theme", one of the surest pathways we have found to deeply knowing exactly what you are looking for from sex and intimacy, from there you can learn how to communicate about it and share it with a partner or partners.

Mating in Captivity: Unlocking Erotic Intelligence
By Esther Perel
Perel talks about the inherent tension in long-term relationships between domesticity and passion. While commitment, trust, closeness and excellent communication are the foundations of sharing a life, home, and children with another, passion needs distance, barriers, a synapse over which to jump in order for relationships to stay hot and exciting.

Hold Me Tight: Seven Conversations for a Lifetime of Love
By Sue Johnson
In Hold Me Tight, Sue Johnson offers couples a new way to see the negative patterns that are replayed over and over again in relationships and how they are related to our feelings of attachment. She presents the key tools of her highly effective Emotionally Focused Therapy techniques for you to practice at home.

Nonviolent Communication: A Language of Life
By Marshall B. Rosenberg
If you want to make your relationship better overnight, begin using the communication techniques offered in this book. When you learn how to really listen to each other, to take responsibility for your feelings and needs and for communicating them and when you learn to truly empathize with your partner, everything becomes easier!

Your Brain on Sex: How Smarter Sex Can Change Your Life
by Stanley Siegel
Siegal draws on a history of understanding how our brain works sexually to help individuals and couples understand themselves and each other sexually. The book takes you through a process he calls "Intelligent Lust" and helps you clarify, communicate and evaluate compatibility around your sexual desires.
Books about Sexual Technique
The Multi-Orgasmic Couple: Sexual Secrets Every Couple Should Know
By Mantak Chia
The Multi-Orgasmic Couple summarizes and synthesizes much of the information in the Multi-Orgasmic Man and Multi-Orgasmic Woman. While the focus on Eastern spiritual teachings may make this less accessible to the general reader, the information contained in it may be helpful to men and women who want to learn the art of multi-orgasm.

Guide to Getting It On, 5th Edition
By Paul Joannides
If you are looking for a fun, hip, and detailed guide to pleasure for men, women and couples, look no further. The Guide to Getting it On has it all. It is a must-have for every household who is interested in keeping their sex life hot.

Anal Pleasure & Health: A Guide for Men and Women
By Jack Morin
A list of resources would never be complete with out a book on the joys of anal pleasure. The anus has long been a source of shame, but has so much potential as a place of pleasure and relaxation. Morin takes a straightforward and thorough look at this important topic. "

The Ultimate Guide to Prostate Pleasure: Erotic Exploration for Men and Their Partners
By Charlie Glickman and Aislinn Emirzian
Everything you ever wanted to know about anal play and prostate pleasure for men in a very concise and lovingly-written guide. We know Charlie and Aislinn personally and know we would never want your butt to be in anyone else's hands!
Books about Open Relationship
The Ethical Slut: A Practical Guide to Polyamory, Open Relationships & Other Adventures
By Dossie Easton
The Ethical Slut is the groundbreaking manifesto for all those interested in non-traditional sexual relationships. In a slut-shaming world, these powerful women buck the system of sexual repression and reclaim and revision the word "slut" to represent a new sexual world full of positivity, freedom and self-realization.

Opening Up: A Guide To Creating and Sustaining Open Relationships
By Tristan Taormino
For couple's considering some form of non-monogamous relationship, Tristan Taramino has put together a very practical, straight-forward guide on styles of non-monogamy, as well as ideas about how you negotiate your relationship needs, desires and boundaries.

Sex at Dawn: How We Mate, Why We Stray, and What It Means for Modern Relationships
By Christopher Ryan
Have you ever wondered if humans were meant to be monogamous? In this fascinating read, Christopher Ryan and Cacilda Jetha make a research-based case for how our prehistoric beginnings set us up to live a more non-monogamous life. If you are interested in exploring different relationship styles this book is for you.
Books about Trauma, Addiction and Shame
Irritable Hearts: A PTSD Love Story
By Mac McClelland
For a highly illuminating look at one women's embodied journey of healing from trauma, check out Irritable Hearts. Journalist Mac McClelland uses her sharp, investigative eye to take a look at her own experience of debilitation, love and recovery. This book also does a great job of showing how trauma, sexual or otherwise, can have tremendously negative effects of people's sexual desire and expression.

Waking the Tiger: Healing Trauma
By Peter A. Levine
While animals generally have the ability to shake out their experiences of trauma and return to their lives largely unscathed, humans who do not directly address their trauma may hold it in their body throughout their lives In Waking the Tiger, Levine catalogues shows how held trauma can negatively impact people's lives and shares his somatically-based approaches to help people release it from the body.

In the Realm of Hungry Ghosts: Close Encounters with Addiction
By Gabor Mate
Gabor Mate offers a revolutionary way of understanding and approaching addiction that gets right to the heart of the matter – the heart. He convincingly shows us how a lack of loving connection and attachment combined with trauma and abuse lead to addiction and that simply abstaining does not heal the deeper wounds at play. A brilliant, holistic and phenomenally well-written treatise that shows us why the war on drugs is such an enormous failure and why only a compassionate approach will ever address the personal and societal problem of addiction.

I Thought It Was Just Me (but it isn't): Making the Journey from "What Will People Think?" to "I Am Enough"
By Brené Brown
Shame is a powerful yet hidden force in our society and we all experience shame much more often than we think we do. The feeling of shame creates isolation and disconnection and makes us feel small and undeserving. It also restricts our sense of freedom and makes us question our inherent goodness. This is a great read to understand shame and Brene Brown explains how we can all develop shame-resilience. While her research was done on women, this book applies to all.

Men, Women and Worthiness: The Experience of Shame and the Power of Being Enough
By Brené Brown
With continued bravery and tenacity, Brene Brown takes us on another journey to help us face one of our most challenging human emotions, Shame. She helps us understand the difference in the ways that shame arises for men and women, and helps us learn the 4 steps to shame resilience so we can move beyond shame's crippling repression to a more joyful, expressive and pleasurable life.

Unwinding the Belly: Healing with Gentle Touch
By Allison Post
This book reminds us that "All healing is self-healing". Post offers a simple, self-directed way of approaching the healing our bellies which includes breath and hands-on practices. It is a wonderful guide to self-health, and holds many similarities to the ways that we approach healing and expansion around sexuality.